Stop me if any of this sounds familiar: You're lurking a peer's social media account, and what started as a cursory browse quickly takes a detour down the rabbit hole of self-doubt and envy: "S/he is so much better at X or Y than I am – I'll never catch up! Look at his/her amazing X or Y and s/he's always hanging with X or Y celebrity and nobody even knows who I am – ugh, I should just quit and do something else, I'm just not cut out for this" – and so forth.
If the above scenario rings painfully true for you, it's because you've felt the power of something embedded deep in the semi-conscious, caveman part of our brains: a powerful engine for comparison – one that works with ruthless efficiency.
Occasionally we have the wherewithal to AVOID that ruthless voice in our heads that doesn't serve us – and it's common knowledge that we're doing ourselves a favor when we do so.  But – at the risk of taking an unpopular stance here, I believe that comparative thinking can be — in fact, MUST be — a part of any creative pro's toolkit.
What?!  Blasphemy!  Right now you might be asking "Why would you prescribe the toxic voice of comparison to the fragile hearts/minds of artists entrepreneurs!" And to that I would respond:  The trick is to harness the power of comparison – to constrain the negatives and make use of the positives – such that it propels you forward rather than holds you back.
Listen to the Podcast
Subscribe
Here's how:
DO NOT Compare yourself to others in counterproductive ways that open to the door to negative thinking
Easier said than done.  What I mean more specifically is this: do not compare yourSELF – that is, your overall "worth" as a human being – to others. Weighing your own accomplishments, lifestyle and self-image against someone else's as though you're on opposite ends of a balance beam (as described in the example at the top) is just a really bad idea. Don't do it. Ever. This is the comparison that's harmful – and potentially very undermining to your goals.
The reason is simple: we are biologically programmed to put greater emphasis on the negative (this phenomenon is called negativity bias). And therefore when you compare yourself (or more precisely) your SELF to someone else's self, your natural tendency is to overlook the positive and focus on the negative because your brain is programmed to zoom in on the areas where you feel like you fall short.  As a survival mechanism, our crocodile brain looks for things that need fixing.  
The net outcome of this — of comparing the uncut reality of your life to the highly edited highlight reel of someone else's life — is that, plainly speaking, you make yourself feel like shit. Who needs this?  The answer is no one.
Blunt, non-contextual judgements on your SELF relative to others doesn't serve you. Unless of course you'll like feeling deflated, defeated and worthless.  As you can tell by my POV here – in that state of mind, you're highly unlikely to find the motivation to do anything productive.
Remind yourself that you are worthy. You are enough.  You are a good human. And remind yourself, "That's their highlight reel".
Instead of getting fired up about a new idea, going to an event and making new friends, or making headway on a project, you'll probably just sit on the couch and have a pity party. Instant loss of momentum – all because you let yourself fall into this (all too common) trap.
With that in mind, let's shift gears now and unravel a simple way to outsmart your brain and short-circuit its tendency toward the negative… and instead let me give you a blueprint for putting that caveman, comparison-laden DNA to good use.
First, if you find yourself lurking someone's Instagram and getting that "this person's life is so much more awesome than mine wtf am I doing with myself" feeling, then STOP.
Close the app and do this: acknowledge that the feed you were just viewing is that person's highlight reel. It's their shining and bright moments. They've curated that feed with the intent of crafting a message about their life.
And then, acknowledge that the part of your SELF that you're comparing to that highlight reel is your REAL LIFE.  The stains on your jeans.  The low bank balance. The bad grade… all the un-edited things you know about yourself that you DON'T KNOW about that other social feed.
Now sit with that for a moment.  Hold this space.  Remind yourself that you are worthy. You are enough.  You are a good human. And remind yourself, "That's their highlight reel".
Now put your chin up and get back to work.  And the work I want you to do is this: open the app back up and look at the WORK.   Not the narrative behind the work.  Look at the work and see what you can learn.
[slippery slope alert – if you find yourself wanting their Ferrari or their 6 pack abs, close the app. And only open it when you can look at the WORK.  The style of photos.  The edge in the design. The speed of the cuts in their video, the music.  And then ask yourself what can you LEARN from this?  Once you can do that…it's ok to proceed]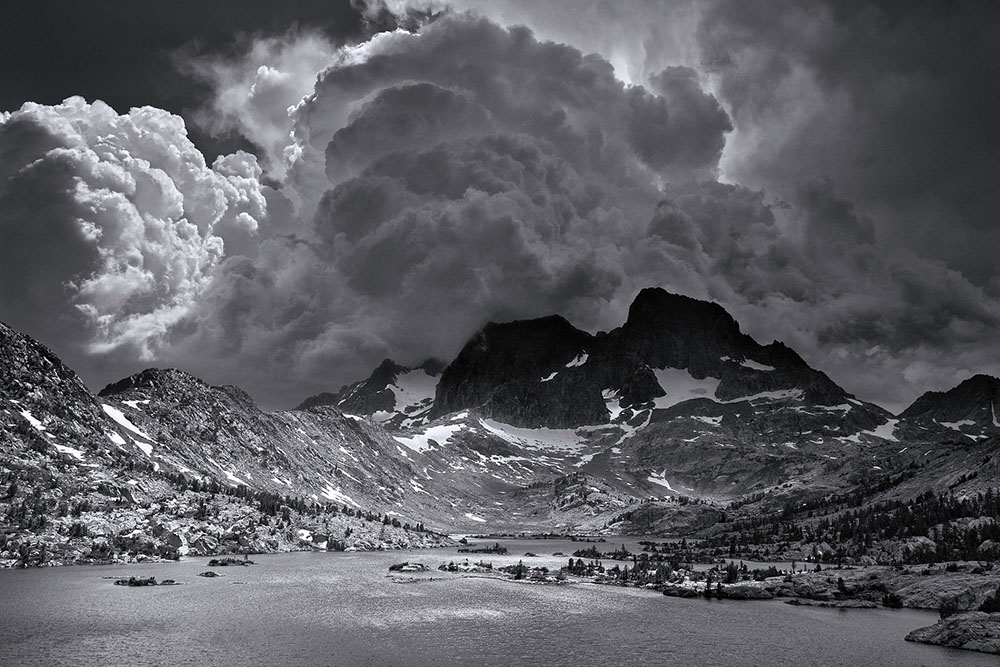 Like countless other photographers, I often compared my work to masters like Ansel Adams. Did I often come up short? Of course. But did I also get incredibly valuable insights that were key to honing my craft? Every. Single. Time.
NOW… HERE's WHAT TO DO: Make a habit of reviewing the WORK of others.  THIS is actually just critical analysis of craft – not "comparing".
Here's where comparative thinking is not only good, but vital for creative pros: You must compare your work to the best, and you must do it with an unflinchingly honest eye, and with the explicit goal of learning from the comparison, using what you learn to improve your own work.
Whether you're talking about photography, design, or music – the one common thread I've seen among high-level creatives of all stripes is that they hold themselves to incredibly high standards. To get to the top of the creative career food chain, one must hold oneself to high standards. And this is where comparing the work of others is so critical– where you can be inspired by the great work of another.
Steal from one artist and it's stealing.  Steal from a dozen artists and it's called research.  Do your research and see what you can do to learn from that and leverage it into your work.  I promise this will feel different than jealously or envy.  This is not really 'comparing' it's a critical analysis of the work of others.  Just this simple shift in understanding and mindset will spur you to create.
Sure, at times this can be a tough and sometimes bruising process, because inherently buried in here is the fact that you're admitting that your work needs WORK… but therein also lies the secret. And power. This is called cultivating self-reflection.  It's called honing ambition.  It's called focusing on what matters (not distractions like the handsome boyfriend or designer shoes in some hero's social feed) but rather focusing on understanding the WORK.
And when you focus on the tactical aspects of the craft / the work of others and not the narrative behind their work (ie their edited highlight reel) – you LEARN.   And when you learn and can put that knowledge to work… what happens to YOUR WORK?  It gets better.
And here one thing about creative industries – work matters.  Sure there are a handful of other things have to happen to get your big break… You've got to work on getting your work out there.  Meeting people. Hustling. Grinding on the other 50% that no one talks about (see above)…. But at the end of the day, the work is the most important reason you'll get hired.
People come up with all kinds of reasons to believe this isn't true – that work doesn't matter– but if we're being honest, they're all BS excuses and rationalizations that we tell ourselves when we come up short. While it's not always the case, 90% of the time the person with higher quality work (that's craft, plus level of professionalism, plus experience, etc) wins– and it's therefore buried in that  message that your craft needs to be razor sharp.
To put an even finer point on it, "high standards" means that – as you may have heard me say many times before – you must compare your work (specifically, your craft and the other intangibles mentioned in this post) to the BEST.
Use comparison of CRAFT to find that additional 10% that makes the difference between good and great
Yes, reference your friends, the people in your local scene and other peers to see where your craft stands, but ultimately the measuring stick that you use must be the work you see from the world's top pros. Yeah yeah yeah. I hear you.  "Extroverts get X; people who 'know people' get Y; and this jackass over here is just so good at selling himself, he always gets Z…"
But the truth is that those PEOPLE never stick (as in their careers never flourish)  if their work doesn't.  You can get hired here or there if you cultivate those fake levers, bullshitting your way into this or that, but at the end of the day, people gravitate to strong, creative work.  Done with stamina.  Over time.  And consistency. And… And… You get the picture.
Real craft stands out.
Believe it or not, if you keep hustling there will be a day where the people you look up to are no longer idols who seem like they're impossibly far away but your peers (and your competitors). This day may come sooner than you think, and you'll need to be able to hang with them when the time comes.  IF you focus on the work.
A REMINDER ON THIS POINT:
The key to using this kind of comparison to your advantage – the comparison around level of CRAFT – is channeling the sometimes intense, "slippery slope" emotions in a positive direction. Instead of letting yourself feel defeated, turn it into inspiration + motivation.
Use comparison of CRAFT to push through the exhaustion and grind out that additional 10% that makes the difference between good and great, to get up a little earlier and put in the extra hours that the other guys/girls aren't. Think of it like good ol' Mike Tyson did when asked why he woke up at 4:30 AM every day to run: "Because I know that while I train, my opponent is still sleeping."
Like so many things, much of this is just a matter of making a small tweak to your outlook – a quick flip of the switch that can pay huge dividends in the future. Learn to embrace this version of comparative thinking and it will take your work to new heights.
BONUS– Another little cheat code on how to make envy (mostly) disappear in less than 5 seconds
When comparing your work to others (and the clients/projects they've landed), it's very easy and totally natural to get a little envious.
But envy is a negative emotion, and it's important for all of us to wage a daily war on negative thinking- so here's a little hack to use any time you feel some envy start to creep up – this hack exploits another piece of human psychology: that acknowledging a negative thing often makes it feel less significant.
So here's what you do: The moment you feel the envy rising, say OUT LOUD that you are envious and why – use the person's name as well: "Joe Smith, I'm envious that you are only 26 and you work with Coke, Microsoft and Nike, while I am 30 and have only worked with local companies."
I bet you a million dollars that by the time those words leave your mouth, the envy will have almost completely disappeared – in fact, you'll probably find yourself feeling inspired by the person you were previously envious of – turning a negative emotion into a positive one.
Try to avoid the kind of comparative thinking that leads to envy in the first place, but use this hack to snuff it out when it does (almost inevitably) start to take root.
In summary
Comparative thinking is part of our firmware as humans, built as survival mechanism for a time long passed.
Avoid letting yourself fall into the all-too-common kinds of comparative thinking that breed envy, self-doubt and other kinds of unproductive energy. Nip that shiz in the bud if you do feel yourself going down that road. Snuff it out before it take take root and steal your energy – and instead, use the power of comparative thinking to your advantage– turn it into positive energy and critical thinking about craft– that will fuel your progression as a creative professional. Compare your work to that of the best, and do it with unflinching honesty. Rinse and repeat.
Remember: your brain is a tool, learn to use it!